15 Jan 2016
Keyword Research and the Google Keyword Planner
Why do keyword research?
Whether you are setting up an AdWords account for the first time or your account is well established but needs a refresh, then finding the right keywords for your account is very important. We are not just talking about any keywords. What you ultimately want in your account are those keywords that will drive qualified visitors to your website. It will increase sales or conversions and equally it will keep the costs down.
Targeting your AdWords investment with the correct keywords is one of those tasks that you just need to do. And the better the targeting, the more successful your Google AdWords adventures will be. If you take the time and apply the effort, this will bring you more qualified visitors to your website at a lower cost. AdWords is one of those jobs where your grandparent's advice will resonate. "the harder you work on your account, the more you'll get out of it".
What exactly is a keyword?
We'll start with one point of clarification. A keyword is what you set up in your AdWords account. When someone searches on Google, the search phrase that they enter is known as the search term. A search term will trigger a keyword in your account.
Where to start
Keyword research is an on-going job. So at this early stage you don't need to worry too much about creating your ultimate list. In fact at this point, less is more. Why not just start with a small set of 20 keywords and build from there?
So where to start looking for keyword ideas? Some initial options include:
Look for keywords on your website,

Look for keywords on competitor websites, and

Brainstorm with your team and current customers.
At Optimum Results we tend to start with the Google Keyword Planner Tool.  You can find the tool by clicking on Tools (top right in your account) and clicking on Keyword Planner.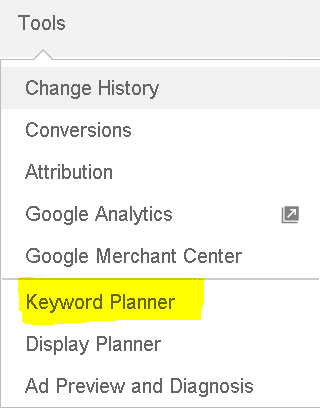 The Google Keyword tool has improved over the years. If your target market is England, you should find some useful data. You may still find references to US and Australian cities. Just ignore those but it does teach us two lessons:

Don't believe everything Google tells you, and

this data is a starting point only.
Click on "Search for new keywords using a phrase, website or category"

Then enter a keyword for your initial search.  If you are selling cookbooks, for example, your first keyword could be "cookbooks".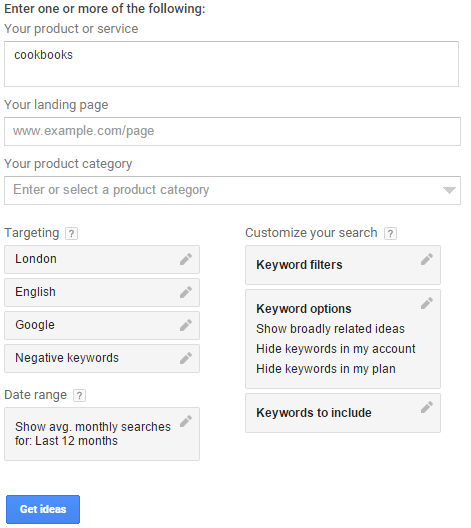 There are a bunch of different options you can change. However, at this point, our recommendation is to just change the geo targeting. In the image above, we have selected, London but you could expand the reach to cover England or even include all countries.
Now click "Get Ideas".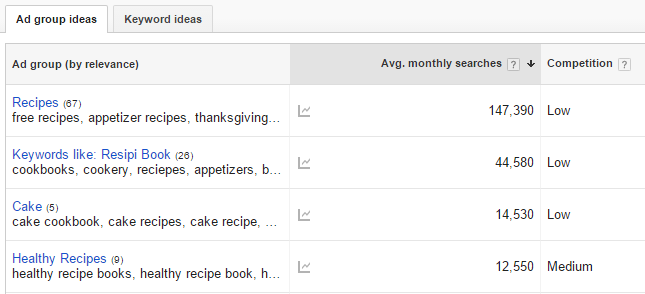 The results are generous – 47 ad group recommendations in our search (if you clicked the tab "Keyword ideas", you would see some 800 keyword suggestions).
In the image above, Google has provided information about the level the of the average monthly searches and competition. Pretty to look at but useless. We're not saying the data is inaccurate as we haven't bothered to check this particular set of data. The only data that matters is when your keywords start getting triggered and you get real-time, indisputable search data information.

Something we see is advertisers clicking the "Add all" button (top right of the image above). Google will seamlessly add all the ad groups and keywords to your account. Yes, it's easy to click that button but as Vivian once said "Big mistake. Big. Huge.".

What you need to do is download this to your spreadsheet of choice and review. Select the tab for Ad group ideas. That way the keywords are already in some sort of order. Click "Download".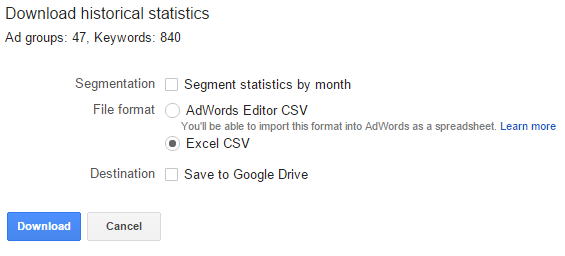 If you're using excel, your spreadsheet, will look like the following image.

Our suggestion is just to work with the ad groups and keywords so delete the other columns as they are not needed for the next exercise.

Let's assume that you just sell cookbooks through your website. It is likely that that the first, second and fourth keywords (dessert cookbooks, soup cookbook and latest cookery books) would be good options to add to your account. And as a bonus Google has provided sound ideas for grouping them into relevant ad groups.
However, several of the above keyword suggestions may be poor options. If you don't stock either kid's cookbooks or signed cookbooks then don't add those keywords. Further, it is unlikely that you give any of your cookbooks away for free so "recipe book online free" would also be a poor option. However, we can use this information. We would suggest adding "free" as a negative keyword. And if you don't stock kids or signed books then add kids and signed as additional negative keywords.
Now it's over to you to review your list. Take your time and make a judgement call on each keyword. If it's relevant to your account, then add it as a positive keyword. If it's not relevant then it's a hazard to your bank account and we strongly recommend adding such keywords as negatives.
Need more help? Don't hesitate to contact us.  For more reading we like this blog on building a keyword list for beginners.
Pro tip
At various point during your AdWords journey, Google will offer tips and advice on what keywords you should add to your account. Don't ever just add those keywords. Carefully consider if they are relevant.