6 Nov 2015
Google AdWords Preview Tool
Where will you find the AdWords preview tool? From your AdWords web interface, click Tools, then Ad Preview and Diagnosis.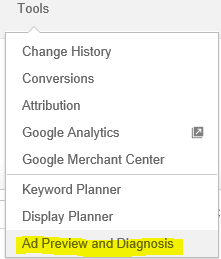 What's the ad preview tool for? The tool is designed to enable you to view your ads as they would appear when someone else searches on one of your keywords.
There are a number of reasons why you should use this tool:
To see your ads without impacting your quality score (a topic for another day),
To prevent you or your team clicking your ads and wasting money,
To see your ads in a search environment that is different to your own, for example, the location. If you're based in Auckland but are targeting potential customers in London, then this tool that will enable you to see the ads as if you were searching in London.
If you're logged into your account, it will provide feedback on the ad status. For example, it will tell you the keyword, ad group and campaign that the search term has triggered. And if an ad is not triggered it will tell that you along with the unhelpful line "your ad isn't showing for this keyword right now. There are a number of reasons why this happens."
The Google AdWords preview tool is very powerful. It allows you to choose the Google search domain, the target language, the device, operating system where applicable and of course the location. Just make your selection from the options on the left hand side. So if you wanted to see how your ads were rendering in Germany, in the German language, on the German Google search property and on an iPhone, your set up would look like this: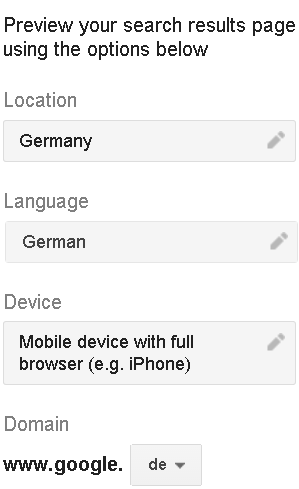 One of the advantages of the upgraded tool is that it will automatically select the target domain and language etc based on your campaign's settings. If there is more than one location targeted, it will chose the settings on an alphabetical basis. For example, if you target the UK and Ireland together in the same campaign, then the preview tool will automatically be set for Ireland, which can be frustrating if it's actually the larger UK market that you'd like to test. If you need a work around for that, create a second campaign and spilt the two locations.
Pro Tip
You don't have to give account access to the boss for them to use this tool. Just send them to http://www.google.com/adpreview.