20 Nov 2015
Google AdWords - The #1 way to find potential customers for less
Let's paint a realistic scenario of a company with a substantial marketing budget. For the purposes of this blog, we would define one of those companies as one who can afford TV advertising.
Let's continue with the example from a previous blog of an airline that flys from New Zealand to the UK. Air New Zealand, as an example carrier, employ a wide range of marketing initiatives from their unique safety videos through to television.
It would be no surprise if production and on air costs were in the millions of dollars. Nor would it be a surprise that despite some targeting the TV ads are shown to a very generic audience. That audience might include some who could be looking to fly to London in the next 12 months but many, many more will have no intention (or resources) to make that flight.
Customers are looking for you
AdWords obviously is a near-perfect advertising platform to target, say, a potential customer actually looking to fly from New Zealand to London when they search for information on flights to the UK.
In the search results below, we see that Air New Zealand is indeed trying to get the attention of the potential customer.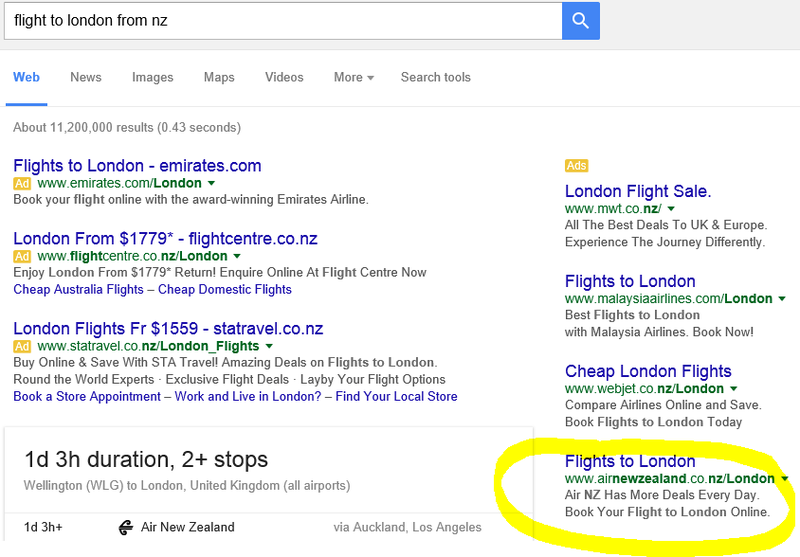 How much would Air New Zealand be willing to pay to be in contact with a real potential customer about their travel plans?  They might pay $5 if that potential customer clicks on their ad. If the customer goes on to buy a ticket that $5 will result in more than a very tidy margin.
Thanks for hanging in this far. We had to paint the picture to demonstrate a point. The point is that it is far more cost effective to use AdWords to get in front of your potential customers at the exact time that they are there looking for your product or service.
That is not to say that there isn't a place for brand and product advertising. That advertising helps the customer to click on Air New Zealand's above ad and then to make the eventual booking.
It is to say, however, that the first place you should allocate your marketing budget is to AdWords because your potential customers are already there. You don't need to spend millions of dollars to find them.
The science is to spend enough to ensure you get to every potential customer searching and to do it in the most cost effective way. Because if you don't your competitor will.
Why wouldn't you pay $5 to get that potential customer?
It sounds like common sense but we constantly see businesses who don't use AdWords or who limit their AdWords spend when they have so many more customers there just for the taking.
There are a number of reasons for this:
Marketing managers may not have experienced AdWords at its best. Just about every AdWords account we have audited or taken over has been sub-optimal.

TV campaigns and ambient advertising are 'sexy' and very visible. Everyone from board members to advertising agencies like seeing themselves on TV. 

AdWords is boring. The only cool thing about our agency is the barista across the road.

Agencies, owners, marketing managers often don't understand the power of AdWords. Over time we hope our AdWords blogs will shed some light on the arcane world of AdWords (though they will probably never be cool).

So what percentage should I spend? 
Of course it isn't about percentages.  It's about being in the right place at the right time.  If you're a plumber, would you be happy to only pay $5 for someone to call you when their water pipe bursts? If you sell extreme adventure tourism packages, would you be happy to only pay $5 to get in contact with someone who is actively looking for a tandem parachute jump?
In summary
AdWords should be the first marketing option for any initiative, product or service. Your potential customers are probably already searching for you.
Know the old adage "we know that half our marketing works, we just don't know which half"? Well, with AdWords we do.