14 Jun 2016
Best practice and simple tips for creating Google AdWords text ads that will get clicked
If you don't have plenty of time and resources, then we recommend that you keep your ad copy strategy simple. Yes, there is a place for identifying buyer personas (your ideal customer type based on market research and real data about your existing customers), and for tens of different emotive calls to action but most small and medium size business will benefit from just getting some good ad copy set up and then moving on to managing their business.
It's not actually too difficult to ensure your ads get clicked.
First up is some best practice (i.e. the results show over and over again that this works), and that is to ensure that the keywords in the ad group are similar.  This is another secret sauce for your AdWords larder.
For example, if you're a hotel looking to market yourself as both a romantic destination and a place for corporate travellers, you need to ensure that the relevant keywords are in two separate ad groups. This may seem really obvious, but the fundamental mistake of having dissimilar keywords in the same ad group is, in our experience, common.
Now that you have all your "romantic hotel" keywords in their own ad group, you're good to go and write some ad copy.
And you can keep it very simple. We suggest having the keyword theme, in this example, "romantic hotel" in the header, in the first description line and then in the display URL.
In the second description line, you can add a call to action. Your ad might look something like this: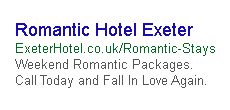 Please note that ad formats will be changing at some point this year.
If you need some assistance or if any of this information needs clarification, please don't hesitate to contact the
AdWords specialists at Optimum Results
.